---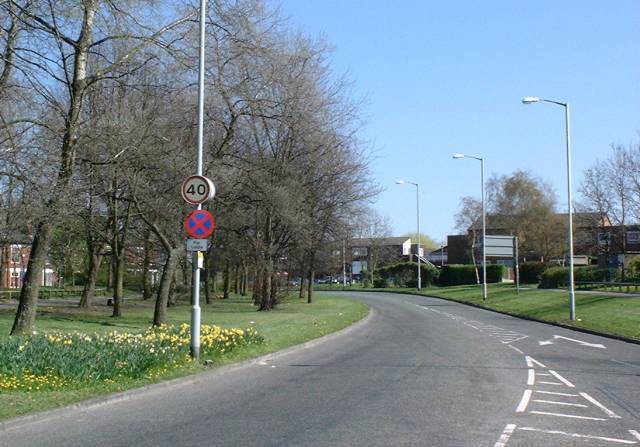 The unclassified Belmont Way in Stockport, part of the town's half ring road which describes a loop to the east of the A6. This road, built in the late 70s or early 80s, and scything through a dense inner-urban area, was designed for 40 mph, with no immediately adjoining building frontages, and is designated as an "Urban Clearway". Nowadays they would not hesitate to give such a road a 30 limit, and its survival is surprising in Stockport which has reduced many rural main roads to 30. Regrattably, this was reduced to 30 in 2007.
---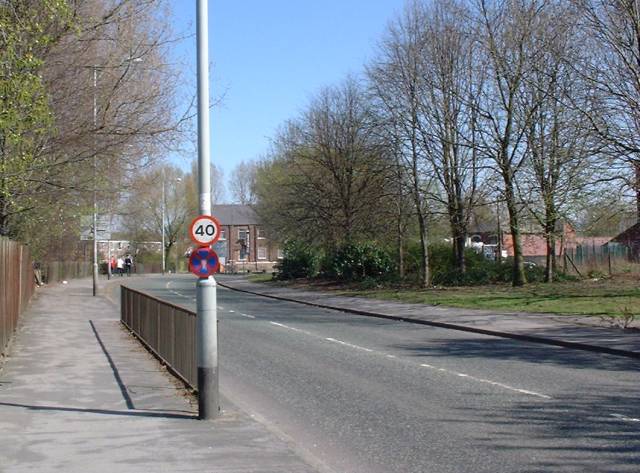 Another view of Belmont Way, showing a 40 repeater and clearway sign in an urban environment. This repeater has in fact disappeared since the photo was taken in Spring 2002.
---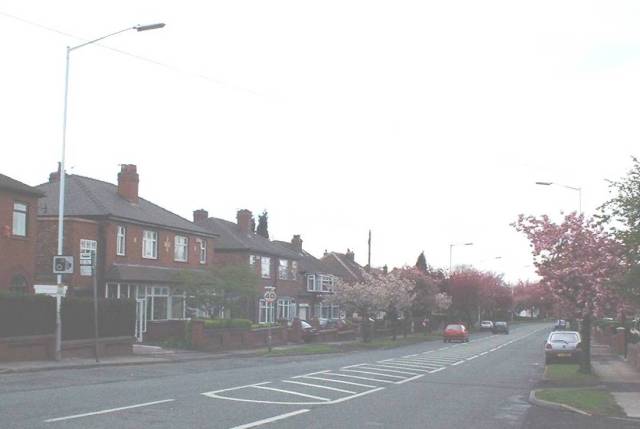 A 40 mph limit on the A6017 Stockport Road in Denton, Tameside (taken April 2002). This road is continuously built up for about half a mile past this point. The right-hand speed limit sign is missing, meaning that the 30 limit on the photographer's side of the boundary is unenforceable. For once, there is in fact a speed camera within half a mile of the camera sign! Less than five miles from this location Tameside has a 30 limit on a non built-up rural A-road. Also a good example of the blight of central hatching - all in all a very illuminating picture. This was reduced to 30 in 2007 - I suppose it had a good innings!
---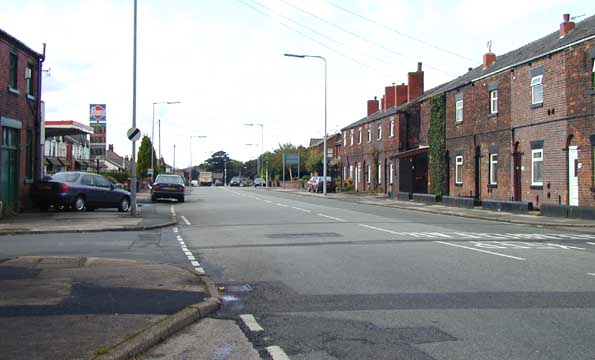 A surprising section of NSL on the A6 in Over Hulton, near Bolton, which was still there in early 2005. The photograph slightly exaggerates the built-up nature of the road, but even so 40 mph would be a more appropriate limit at this location. (courtesy of www.speedcam.co.uk )
---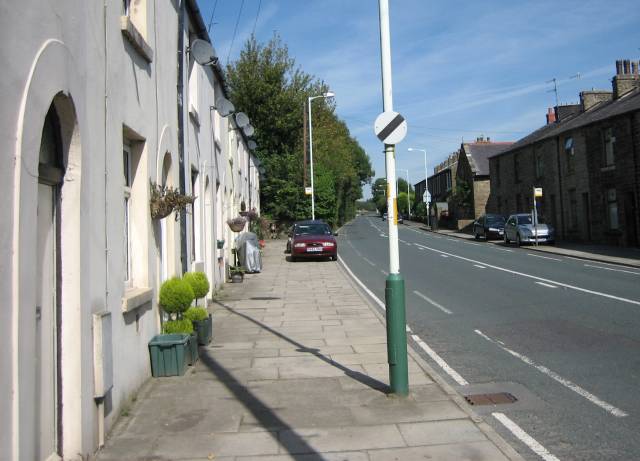 A similar built-up NSL on the B6527 at Ewood Bridge, Rossendale. This road was downgraded from the A680 in 1971 when the Edenfield Bypass was opened and presumably has been ignored ever since - although the dotted edge lines look more recent.
---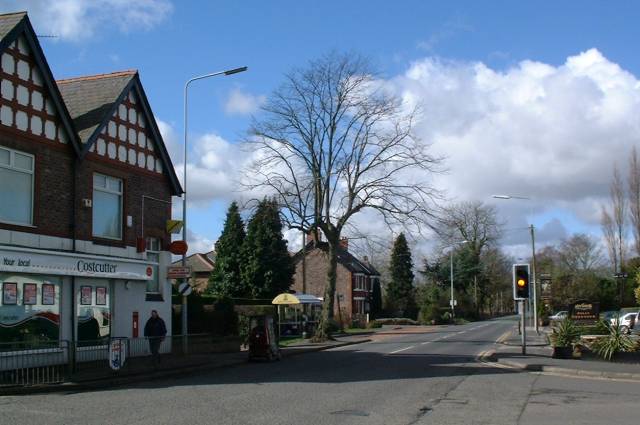 Another NSL of built-up appearance on the A56 at Broomedge, near Lymm in Cheshire. In fact this is only a small cluster of development around a rural crossroads and in the circumstances isn't unreasonable.
---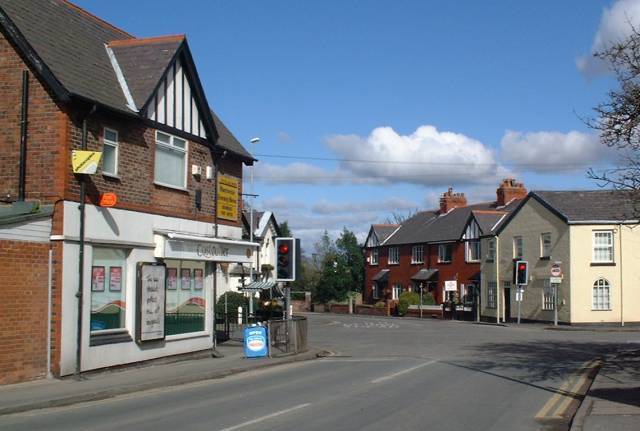 A view of the same crossroads from the road to the left on the previous picture.
---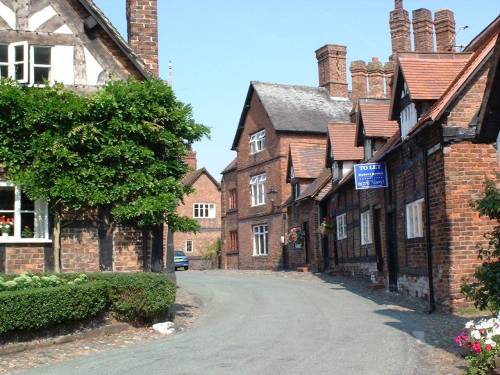 The centre of the village of Great Budworth in Cheshire. See here for a location map. Although the maximum safe speed in this location is little more than walking pace, the posted speed limit is actually National Speed Limit Applies (60 mph). Presumably - and sensibly - the highway authority take the view that erecting 30 signs would actually encourage inappropriate speed.
---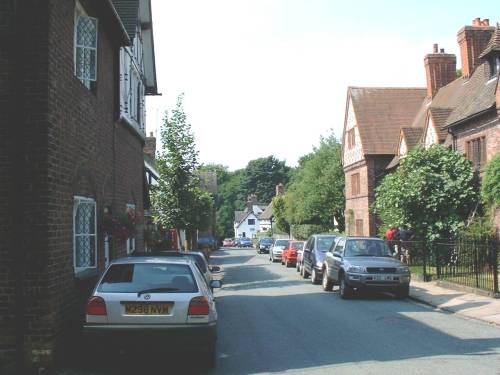 Another view in Great Budworth. It would not be safe to do much more than 15 mph in second gear down here, so a posted 30 limit would do nothing for safety
---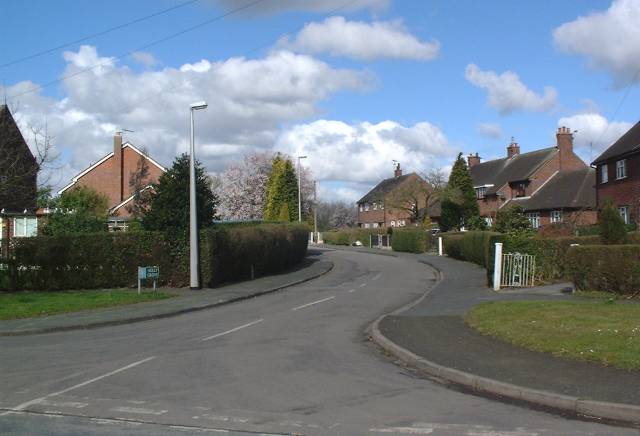 A small residential close off a rural B-road at Tabley, near Knutsford in Cheshire. In the absence of a speed limit sign, in theory the speed limit along here is 60 mph, although in practice nobody is likely to exceed 30
---