Photo Gallery - Speed Limit Reductions
---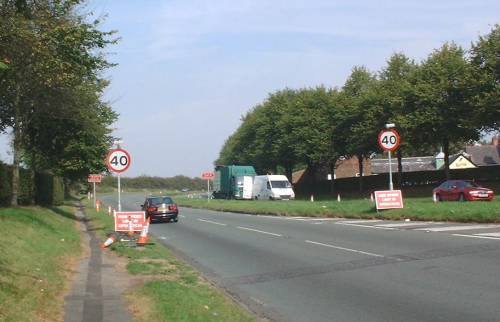 In August 2002, the speed limit on a one-mile dual carriageway section of the A56 at Walton, near Warrington, was reduced from NSL (70 mph) to a mere 40 mph. This was despite there being no properties whatsoever along the stretch, and only two side roads. Although there are a couple of fairly tight curves, and a sudden transition to a built-up, 30 mph environment at the far end, this is no justification for such a swingeing cut which is in total defiance of government guidelines. Sadly this kind of nonsense is becoming ever more common.
At least they leave you in no doubt that a lower limit has been imposed: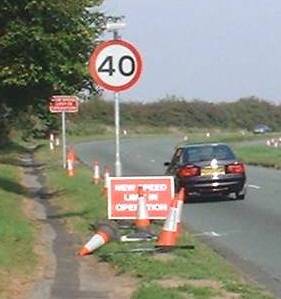 ---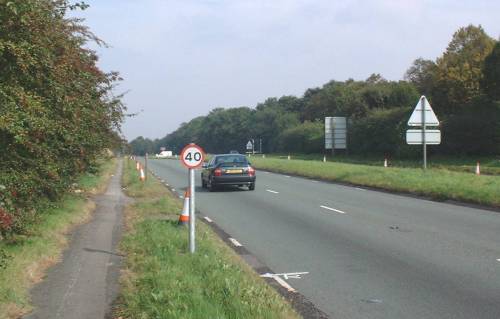 The A56 about 400 yards further along from the previous picture, showing the clear, open, rural aspect of this road.
---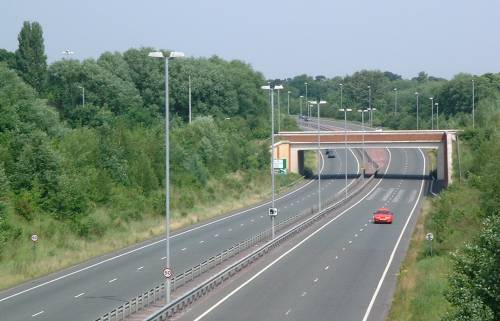 The A34 Handforth/Wilmslow bypass was opened in 1996 as NSL (70 mph), but a couple of years later had its speed limit slashed to 50 mph, despite being a high-standard, pedestrian-free dual carriageway with a central crash barrier. The 50 mph repeater signs can be clearly seen, and there is also a camera warning sign. Two Gatsos were installed in Summer 2002, one of which can just be seen on the central reservation behind the red car. The calibration markings on the road are clearly visible.
---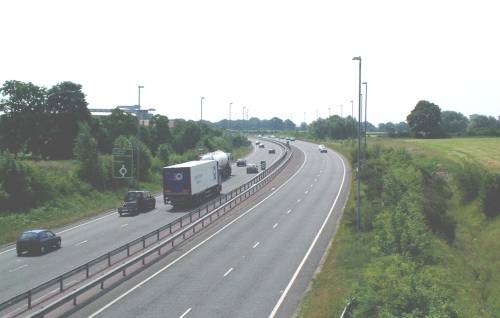 The A34 looking south from the same point, clearly showing that the road runs through largely undeveloped countryside.
---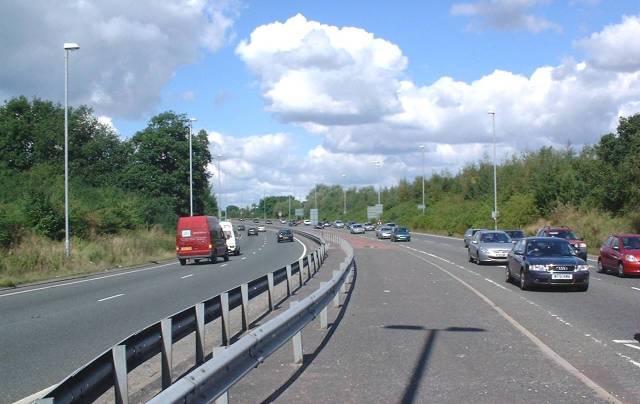 Further south on the same road, a pedestrian crossing was installed at the roundabout with the B5094 Stanley Road, and at the same time the speed limit was reduced from NSL (70) to a mere 30 mph for a substantial distance on either side. On the northbound (left-hand) carriageway, a 30 limit applies until the 50 sign visible as a distant smudge, while in the opposite direction it extends for a further 200 yards, almost to the vanishing point. Needless to say, this ludicrous limit is ignored by virtually all drivers.
---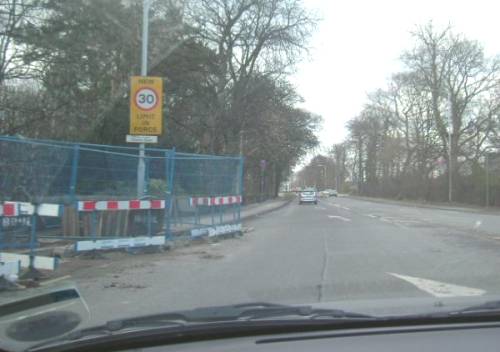 A reduction to 30 mph on the route of the old A34, now bypassed by the new road shown above. As can be seen, this is a wide, tree-lined road with no property frontages where at least 40 would seem more appropriate. (courtesy of LMARS )
---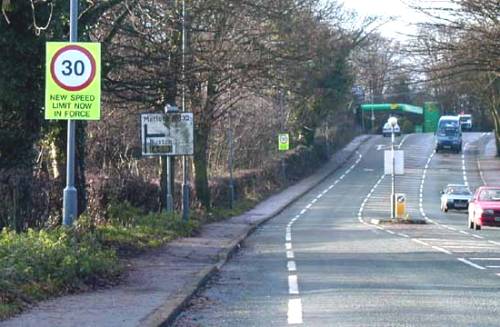 This scene near Chesterfield illustrates two of the key problems assailing the motorist - speed limit reductions outside built-up areas, and centre hatching and bollards. At least they have put up signs to inform drivers rather than simply removing the previous repeaters overnight. (courtesy of www.speedcam.co.uk )
---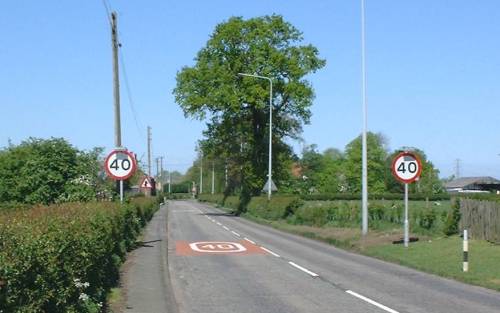 You're driving along an NSL rural main road, and just as an overtaking straight opens up, some jobsworth has slapped a pair of 40 mph signs in the middle of it. The reason for this - on the A56 at Little Bollington between Warrington and Altrincham - is that there's a school about a third of a mile further along, but surely this would have been better protected by a part-time limit operational only at start and finish times. Putting the village name on the signs would give them more impact. I drove at around 55 mph along this section on my IAM test on a Saturday morning, before the 40 mph limit came in.
---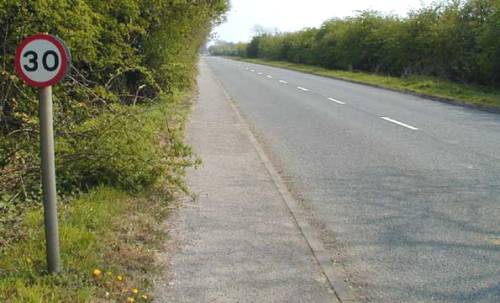 A ludicrous section of totally rural 30 limit on the A40 in Oxfordshire, resulting from the extreme anti-car policies adopted by the County Council. If you hadn't seen it, you wouldn't believe it. Councils such as Oxfordshire and Suffolk are imposing 30 limits all over the place extending well outside built-up areas. (also from www.speedcam.co.uk )
---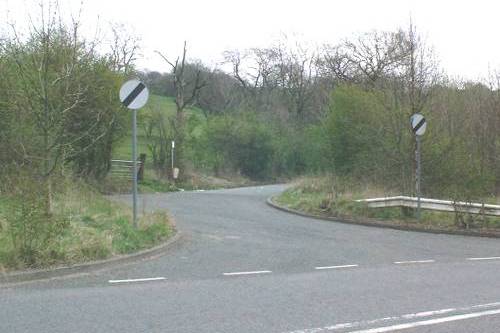 NSL signs on a small, winding country lane leading off a rural main road - the A626 from Marple to Glossop - where the speed limit has been reduced to just 40 mph. There is no way this can be a sensible policy.
---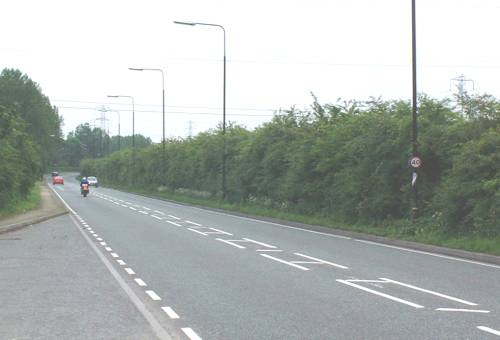 The speed limit on the A6144 between Sale and Carrington has been reduced from NSL (60) to 40. As the photo shows, this is a well-aligned and entirely rural road, where the NSL stretch was about 1½ miles long. There's a black-painted Gatso ahead on the left-hand side of the road - the calibration markings can just be seen between the bike and the red car.
---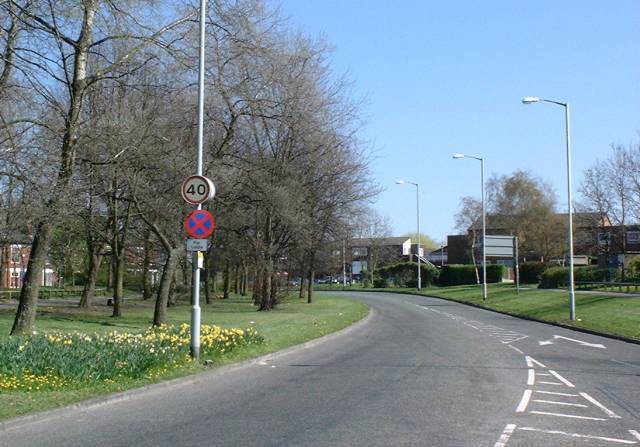 A 40 limit on the unclassified Belmont Way in Stockport, a new-build road from the late 1970s scything through an inner-urban area, but with no directly adjoining properties. Photographed in Spring 2002.
---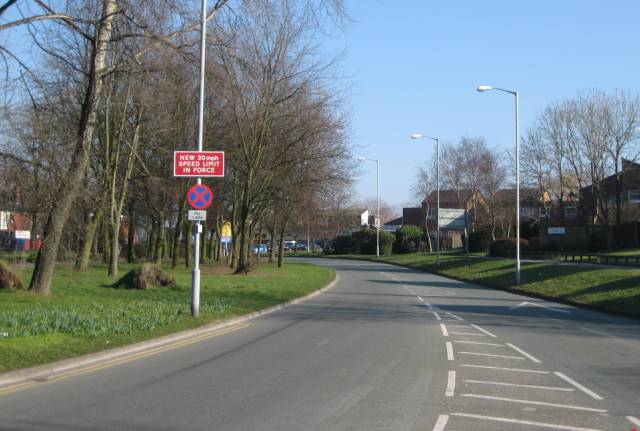 In 2007 this was reduced to 30 mph. The "temporary speed limit" procedure was followed, associated with a diversion while the railway bridge on the A6 at Belmont Bridge was closed for strengthening works. This avoided the need to advertise the reduction properly.
---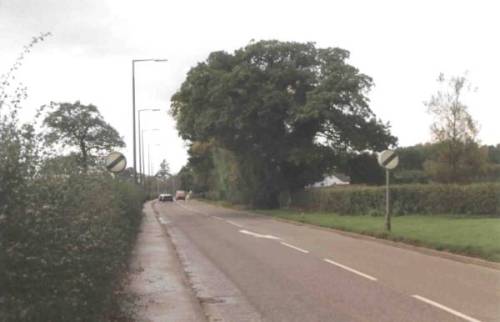 National Speed Limit signs on the A5102 at Woodford, Cheshire, photographed in 2001.
---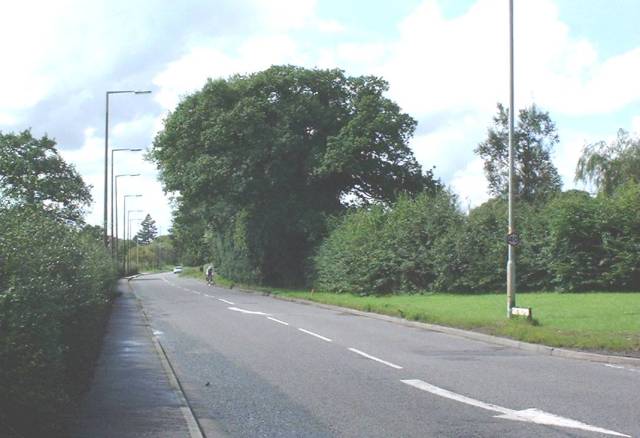 Three years later and they have disappeared, as this whole stretch of road has now been reduced to a 40 limit - note the repeater on the right-hand lamppost. Although the road looks entirely rural here, there are a number of houses further along on the right-hand side which presumably form the justification for the cut.
---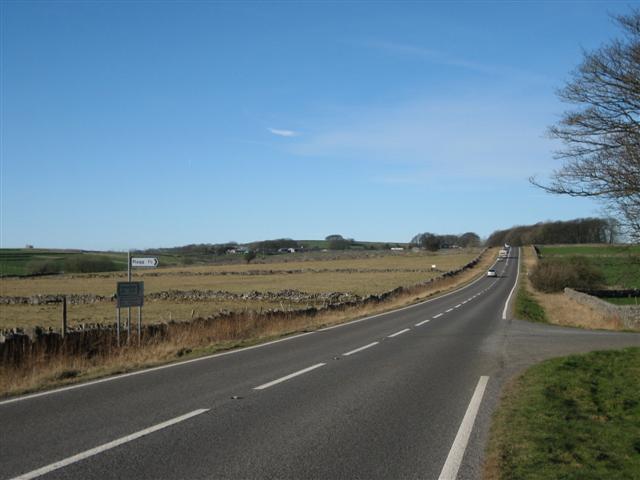 A section of the A515, a high-quality, well-aligned route through the Peak District in Derbyshire, photographed in 2007.
---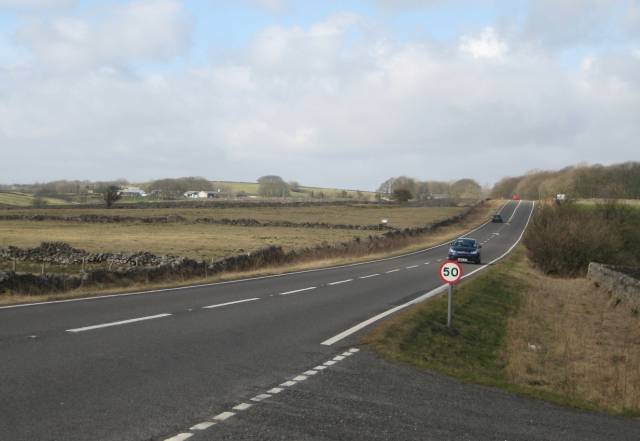 A year later and - astonishingly - this entire route, with the exception of a short three-lane section, has been reduced to 50 mph. As can be seen it is an extremely dangerous, twisty and poorly-aligned road.
---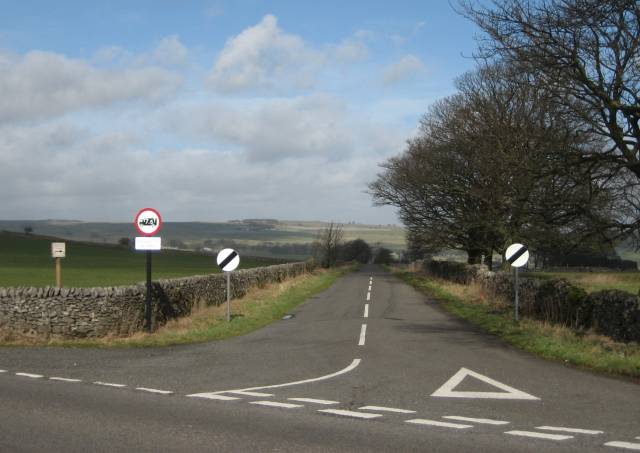 Yet a much narrower and lower-standard road leading off it remains at NSL. What kind of message is this supposed to give to drivers?
---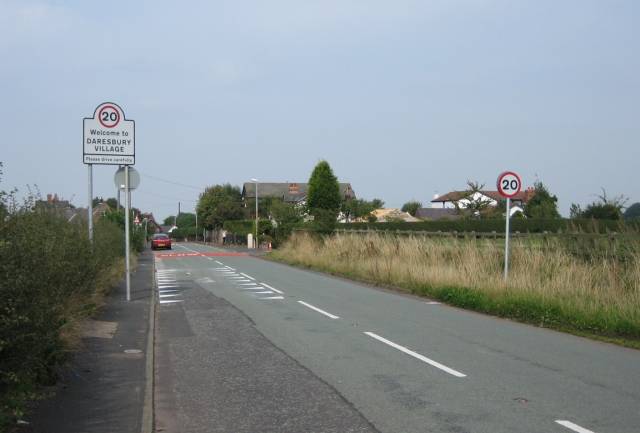 The southern approach to the village of Daresbury in Cheshire, birthplace of Lewis Carroll, where a reasonable 30 has been replaced by a wholly unreasonable permanent 20 mph limit.
---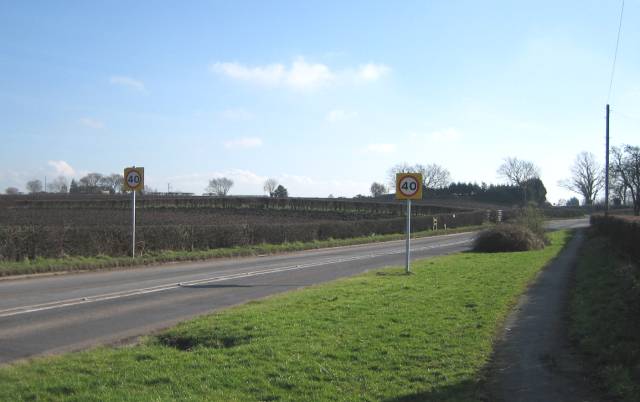 A 40 mph limit applied to a previously NSL rural stretch of the B5356 between Hatton and Stretton in Cheshire, also featuring some unsightly square yellow backing boards.
---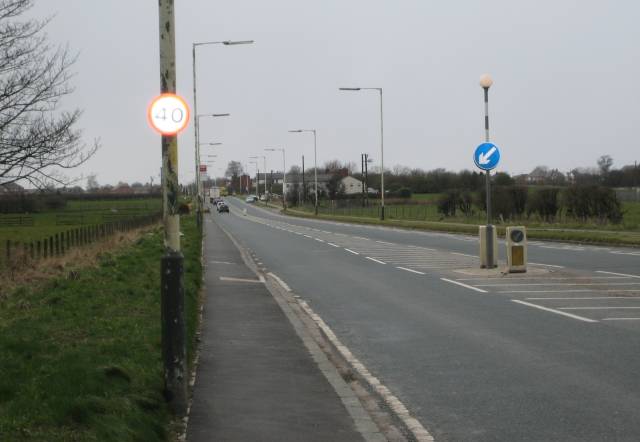 A 40 mph limit on the previously NSL A6 at Over Hulton, near Bolton. The lack of development here is obviously. Unfortunately it was a very overcast day and the flash has rebounded off the repeater sign.
---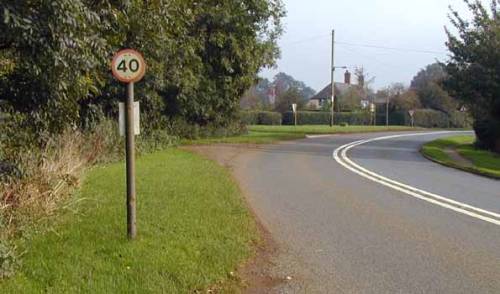 Does this flimsy notice attached to a speed limit repeater advertise a proposed speed limit reduction? (courtesy of www.speedcam.co.uk )
---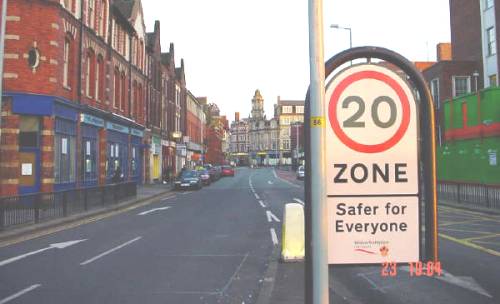 The entire city centre of Wolverhampton inside the ring road - an area about three-quarters of a mile across - was turned into a 20 mph zone in early 2002. But again the authorities are playing fast and loose with signing regulations, as there are no road humps or 20 mph repeater signs.
---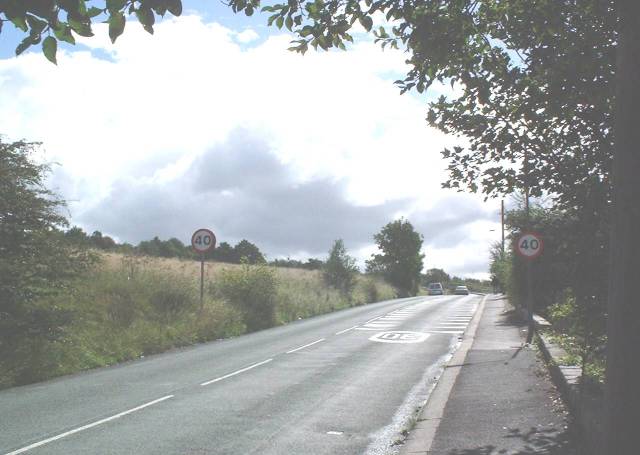 For a change, here's a very rare speed limit INCREASE. This is a short section of rural unclassified road between Dinting and Glossop in Derbyshire. The 40 mph limit is irrelevant in terms of real-world road speeds, but it allows the creation of clear-cut 30 mph gateways where the road enters a built-up area.
---
(Last updated March 2008)
---