These photographs of various idiocies on our roads should raise a smile - but in some cases it's no laughing matter that officials can perpetrate such nonsense.
---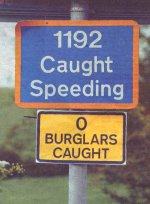 This unofficial addition to a road sign was spotted in the Lincolnshire village of Belton, where the locals obviously felt the police were not quite getting their priorities right.
---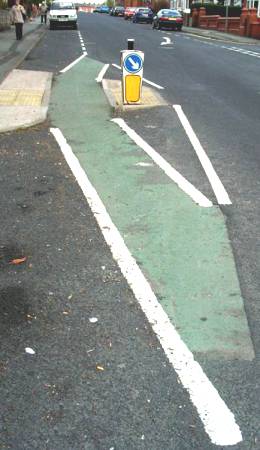 An extremely short, and probably unused, cycle lane in Stockport.
---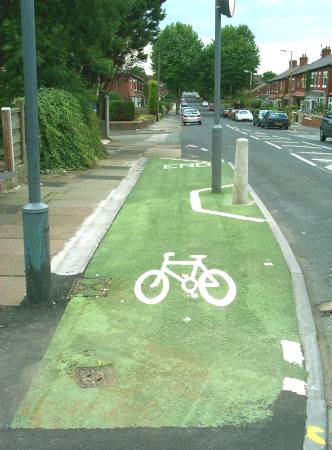 Even worse - this one's on the pavement!
---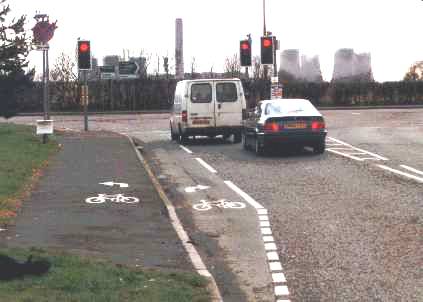 An extremely confusing cycle lane layout in Warrington.
---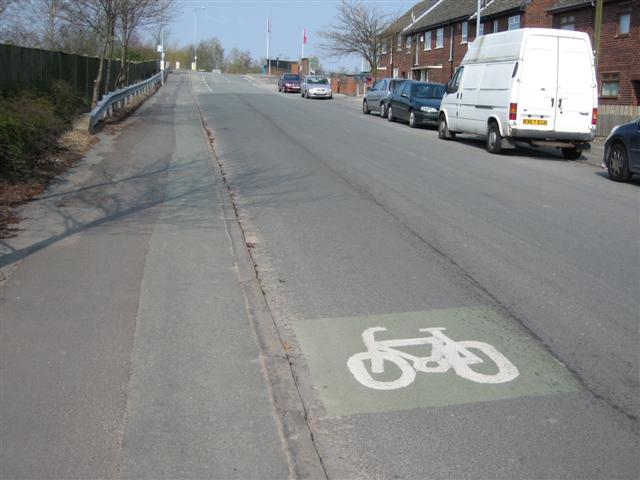 And could this one in Widnes be the shortest cycle lane in Britain?
---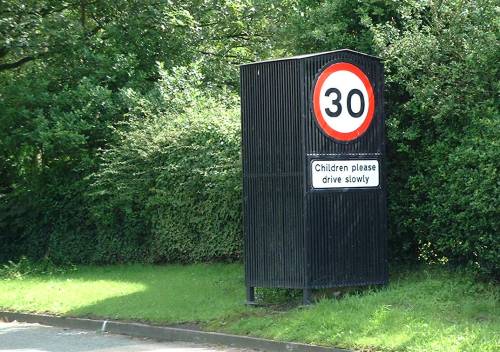 Obviously it's OK for adults to drive quickly, then!
---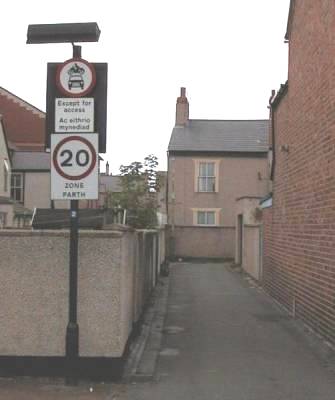 20 mph sign in Rhyl. Even Carl Fogerty would struggle to do 20 mph down this alley (courtesy of Chris Ward)
---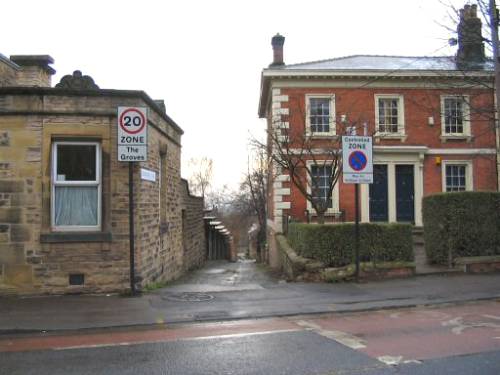 And here's another improbable 20 zone in Sheffield (courtesy of UK Roads )
---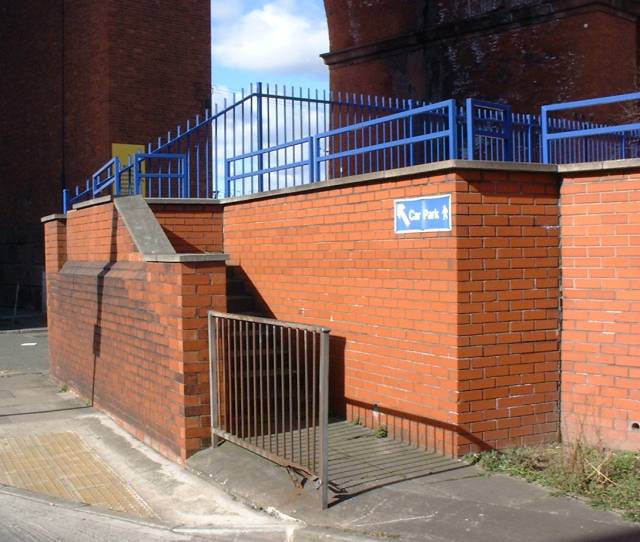 Stockport Council have thoughtfully provided a sign directing pedestrians up these steps to the car park. Unfortunately, they've also bricked up the exit at the top.
---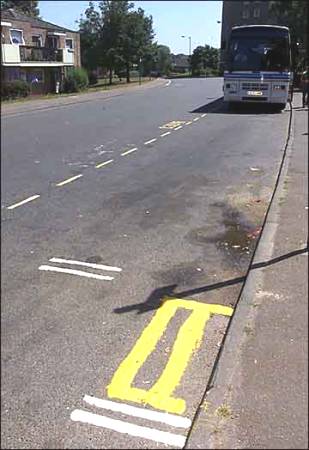 A 45-inch double yellow line in Norwich
---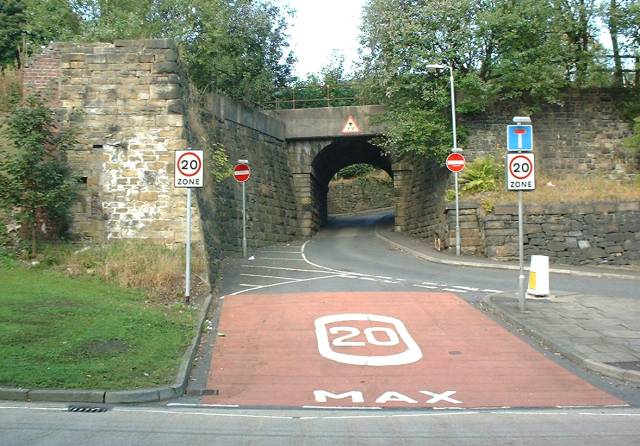 20 mph signs on a road in Mossley, Tameside, immediately followed by no-entry signs for a one-way street. The only purpose of this section is as a bus turning circle
---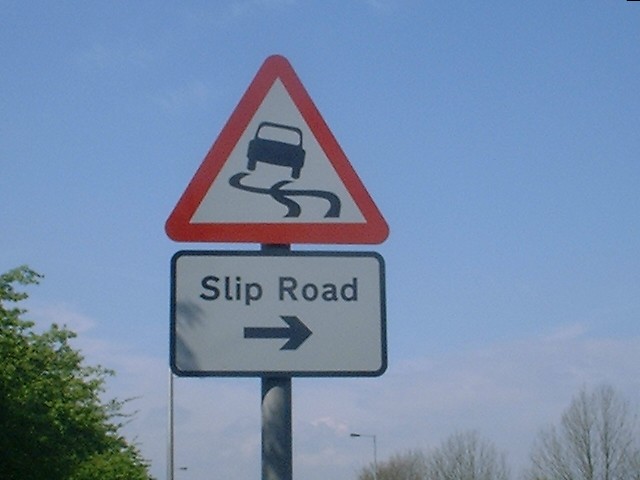 This slip road in Wigan seems to be literally, er, slippy (courtesy of Anthony Hobson)
---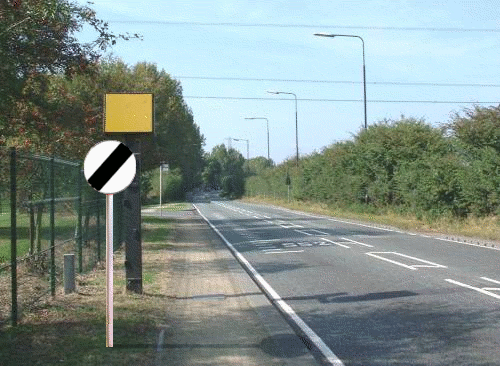 This animation was unofficially made from one of my pictures. If only I'd received some royalties! It is actually only a 40 limit.
---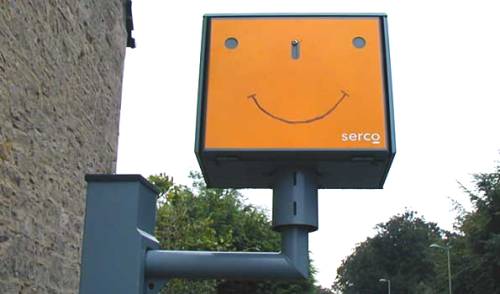 Here's happy, smiling P.C. Gatso, busy keeping the roads safe!
(courtesy of www.speedcam.co.uk )
---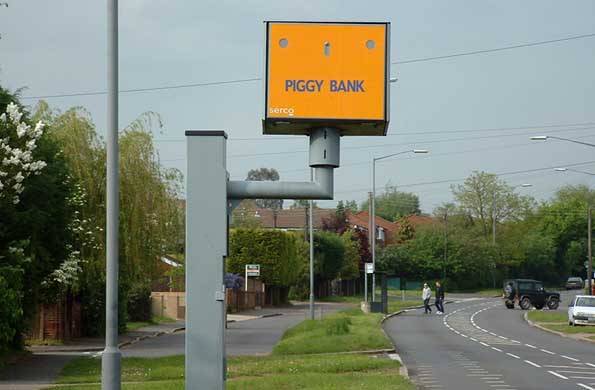 And here's another where a member of the public has added a pointed comment about its intended purpose - although I suspect Photoshop may have been involved here. (courtesy of www.speedcam.co.uk )
---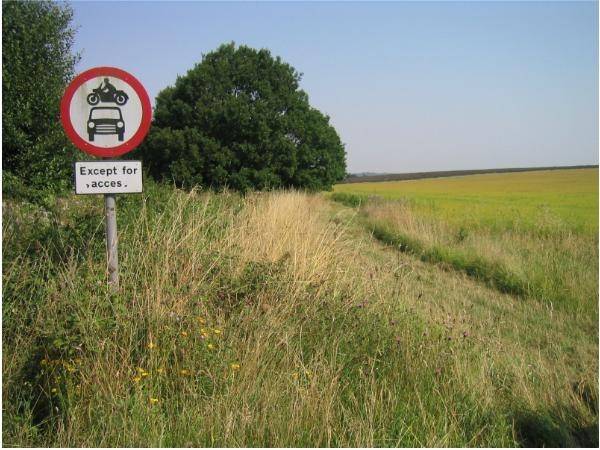 A "no vehicles" sign inexplicably found in a field in the middle of rural Norfolk
---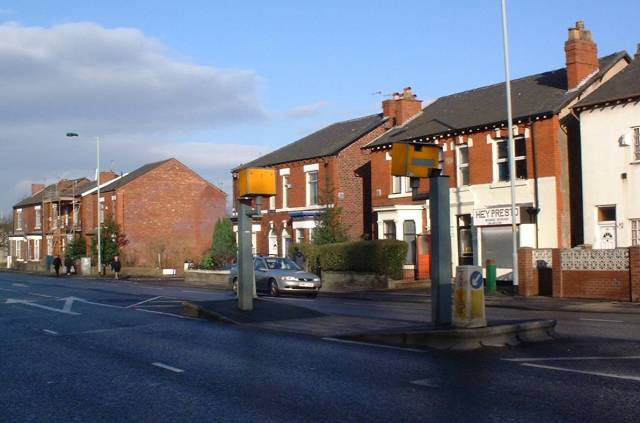 Some parts of Stockport are so dangerous that even the Gatsos have to go round in pairs
---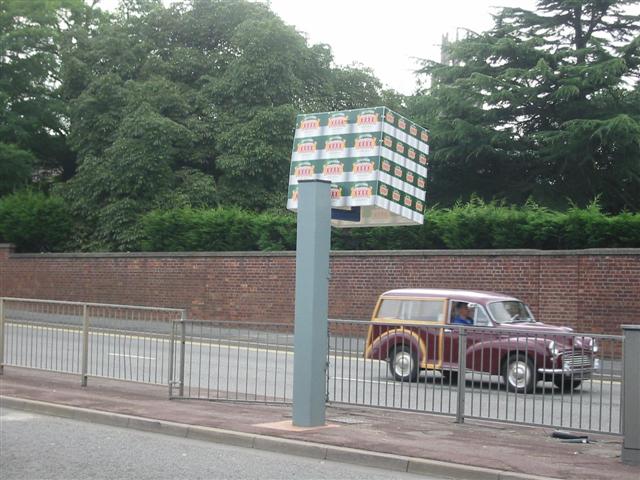 Someone in Boston, Lincs, obviously doesn't give a XXXX for speed cameras!
---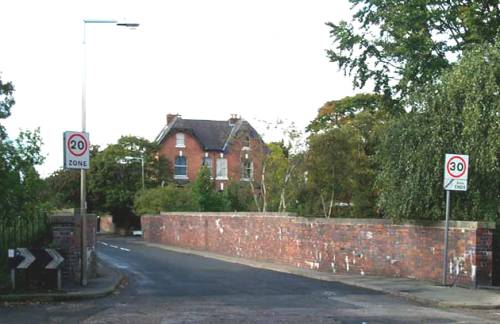 So what exactly is the speed limit here on Warwick Road in Stockport?
---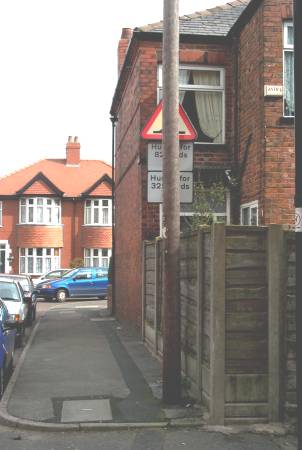 Some Stockport Council workmen have gone to great trouble to erect this sign right behind a telegraph pole.
---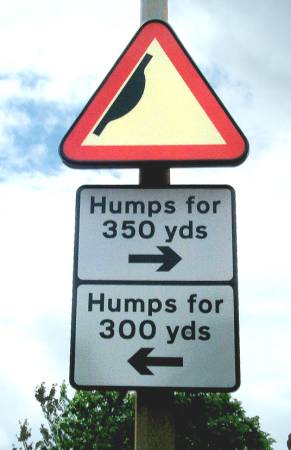 Humps to the left of you, humps to the right of you, humps on top of you! Is there no escape?
---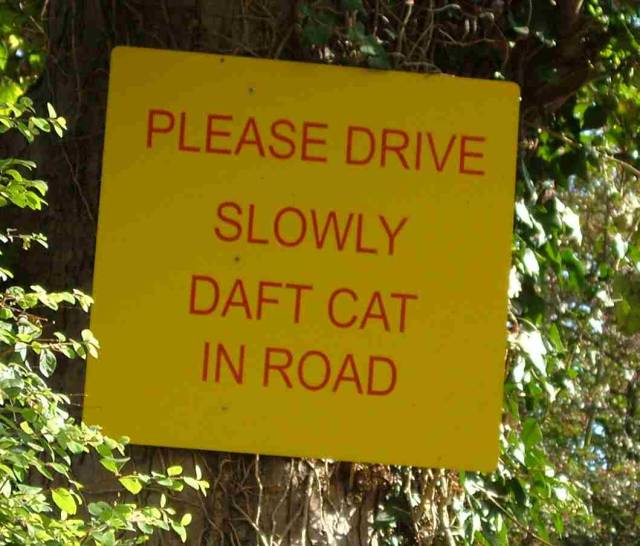 Home-made sign spotted on a minor road near Mobberley, Cheshire
---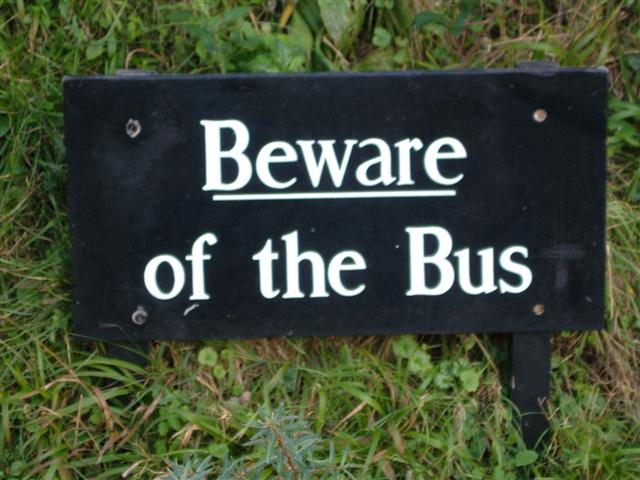 Sign spotted on the Isle of Wight. Does it suddenly jump out at you from behind the hedge?
---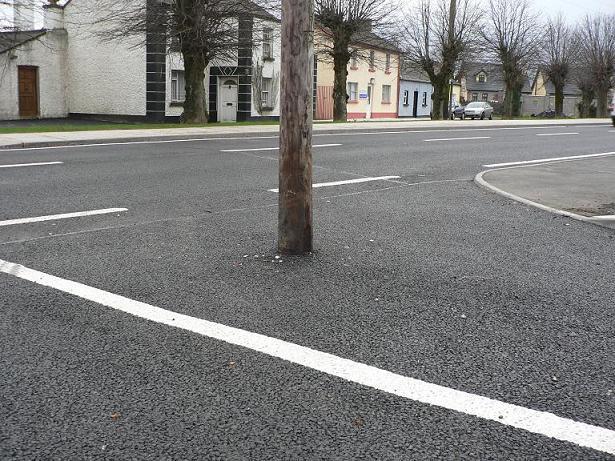 It could only happen in Ireland! This telegraph pole was put up in the middle of a road junction in Ballylinan, Co. Laois, although it was moved as soon as the pictures went round the web.
---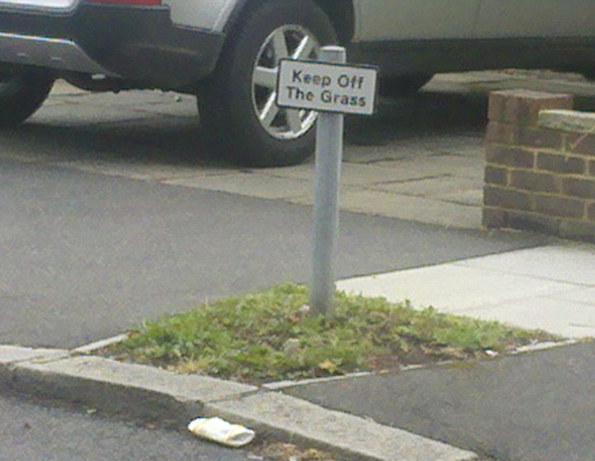 An absurd "Keep Off the Grass" sign on a tiny roadside patch in the London Borough of Merton.
---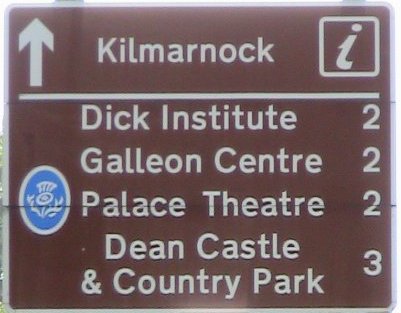 Hmm, I wonder what they're studying there near Kilmarnock?
---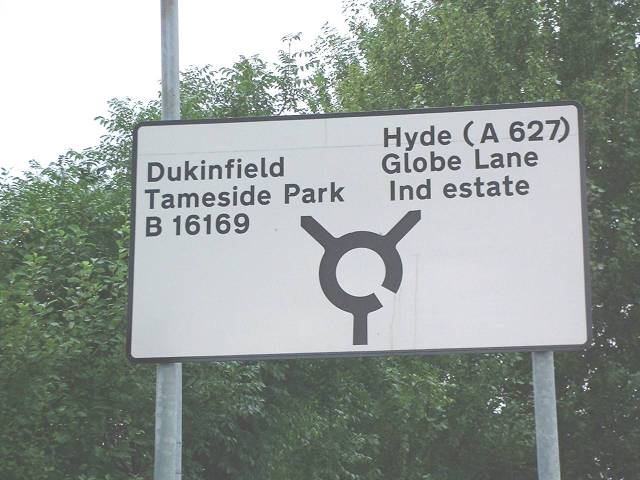 Are there really 5-digit B-roads in Tameside?
---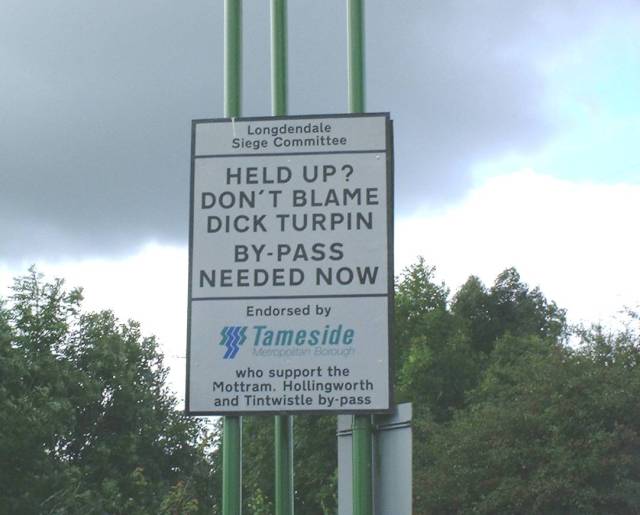 This sign has been erected to campaign for a bypass of the villages of Mottram, Hollingworth and Tintwistle on the A57/A628 Manchester-Sheffield trunk road. Perhaps surprisingly, Tameside Council, who in general have a strongly anti-car policy, have lent their support to this scheme.
---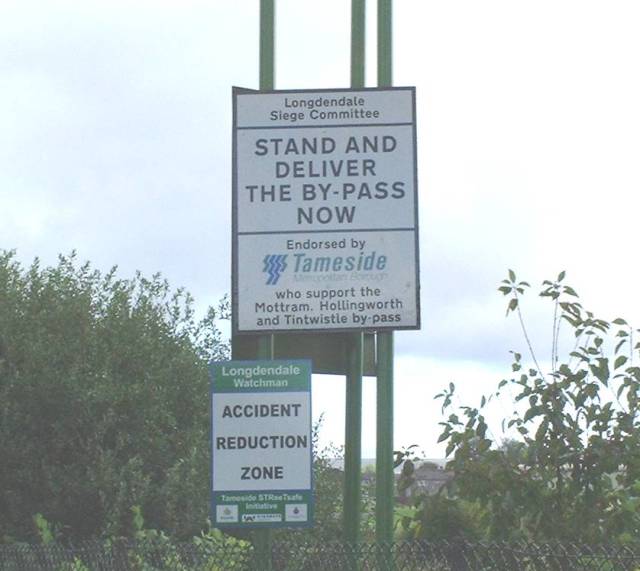 The other side of the sign shown above.
---
(Last updated July 2011)