30 mph Villages - the Hidden Threat
The superficially appealing concept that is likely to lead to inappropriate and dangerous speed limits on rural roads
"Slower speeds" campaigners are often heard advocating the idea of "30 mph limits in all villages". On the face of it, this sounds like something no reasonable person could object to, but in reality it is an example of dishonest language. The word "village" conjures up a cosy image of church, pub, post office, village green and narrow streets of old cottages. Obviously anywhere that meets that description should have a 30 mph limit - maybe even a 20 in the village core - and in reality virtually all already do.
But these campaigners define "village" entirely differently, and what is being called for is not 30 mph limits in villages as you or I would define them, but 30 mph limits wherever there is a noticeable cluster of development. Some counties, such as Suffolk and Oxfordshire, have defined a "village" as any grouping of 20 or more properties with access to a road within a mile of each other, and imposed 30 limits wherever such communities exist, even though some of them are on what to most people would seem to be rural roads.
Over two years in the mid-1990s, Suffolk County Council cut the speed limit in 280 villages on main roads from 60 mph to 30 mph. In 85 villages it was cut from 40 mph to 30 mph, and in another 85 cases existing 30 mph limits were extended. It is hard to believe that many of those 280 remotely approached the popular conception of a village. This policy resulted in a noticeable upturn in casualties in following years, some of which a Suffolk coroner directly attributed to inappropriately low speed limits. Despite this, similar programmes are now spreading into more and more local authority areas, and there is now (August 2002) a distinct risk that Cheshire - so far characterised by a sensible approach to speed limits and a good safety record - is likely to follow suit following pressure from ill-informed councillors.
These authorities have also often extended 30 limits well beyond the built-up parts of villages (even as generously defined) to encompass "the last house in the village", even if it is 200 yards away from any other houses, and then 100 yards beyond that house to give drivers chance to slow down. This has the effect of imposing 30 limits on what are effectively entirely rural roads. Paradoxically, this may actually increase speeds in village cores, as drivers no longer encounter a speed limit sign when entering them, and are not made aware of a change in the road environment. A driver coming across a 30 mph sign in the middle of a non built-up road running through open fields is highly likely to discount it as irrelevant, and may well then maintain a higher speed when entering the more developed part of a village.
Simply imposing a lower speed limit on a road may placate local residents, but it is unlikely to make much difference to actual speeds, particularly if the road is not one with a built-up appearance. A 1992 Department of Transport consultation on speed limit criteria made the following statement on the effect of speed limits:
"While the speed limit may apply some downward pressure on the speed of the fastest drivers, speed limits on their own do not reduce speeds significantly if they are set at a level substantially below that at which drivers would choose to drive in the absence of a limit."
If drivers perceive many 30 mph limits as inappropriate, there is a serious danger that they will also disregard such limits where they have always existed and are appropriate. The police do not have the resources to enforce village speed limits except on a very occasional basis, and so their effectiveness must depend on their being perceived as reasonable by road users.

Local people are likely to be well aware that certain speed limits are both inappropriate and rarely if ever enforced, and drive accordingly, resulting in risky overtaking manoeuvres and extreme speed differentials compared with occasional visitors who are trying to adhere to the limit, even if it seems unrealistic.

Surely the same criteria should be applied to village speed limits as to those in urban areas. 30 mph limits are appropriate for roads that are continuously built up, with a noticeable presence of pedestrians and cyclists, and restricted sightlines. However, village roads that are partially or intermittently built up, perhaps with large properties set well back from the carriageway, and with open aspects and good sightlines, should have 40 mph limits. Speed limit changes should coincide with changes in the road environment.
---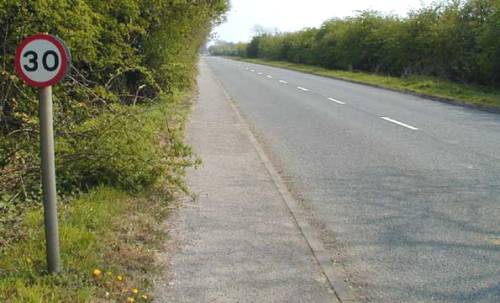 This example from Oxfordshire clearly illustrates the dangers of taking "30 mph in villages" too far - a 30 limit on a well-aligned, rural main road with no development whatsoever, but maybe only half a mile outside a nearby village.
---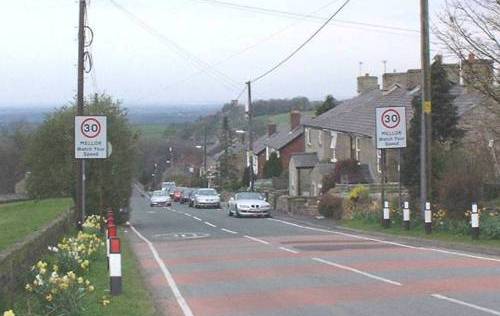 This is how it should be done, at Mellor on the outskirts of Stockport. The 30 mph gateway is highly visible and clearly aligned with a transition to a much more built-up road environment.
---
In early 2004 the Department for Transport published new guidance notes on village speed limits. These stated that 30 mph should be considered the norm for a speed limit in a village, and that a village could be defined as a minimum of twenty houses with an average density of at least 3 houses per 100 metres, extending over 600 metres of road. This certainly bears little relation to most people's concept of a village, but it is interesting that even these criteria have been routinely ignored by highway authorities such as Oxfordshire, who have often extended 30 mph limits well beyond even the levels of development set out in the guidelines. The guidelines also take no account of road width or alignment, level of pedestrian and cyclist traffic, or presence of wide verges in front of houses, all of which could affect the appropriate speed limit.
(April 2004)
---